FREE shipping
on orders $75+

Easy returns if
you don't love it

100% safe &
secure checkout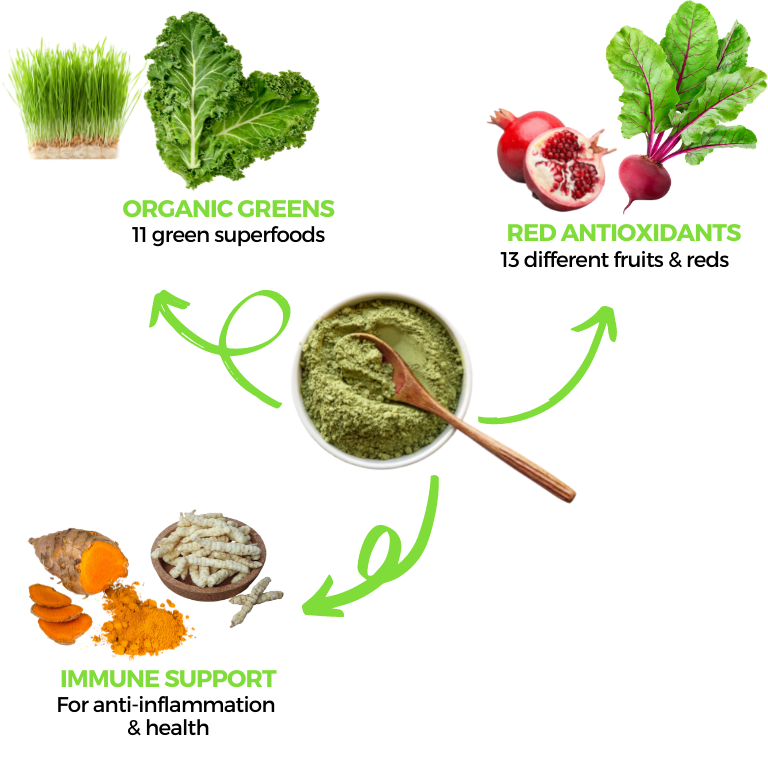 One daily scoop of Power Greens provides your body with all of the much-needed vitamins, minerals, botanicals, herbs, enzymes, and fiber it needs - all while tasting incredibly smooth and delicious!
Gluten, Dairy, & Soy-Free

No Artificial Ingredients
Choose your bundle & save bIG!
We Couldn't Have Said It Better Ourselves
"It's like an all-in-one mega drink that does it all!"
"Power Greens is my new daily go-to. I feel so "light" whenever I take it and it keeps my energized all day!"
"This stuff works wonders! It tastes great, too!"


10 foods to help support a healthy immune system
Winter is coming, combined with little ones going back to school and nursery, can only mean one thing… cold and flu season is upon us. We spoke to our nutritionist Alana Hilton who shared her top 10 foods to support a healthy immune system for you and your family.
And here they are:
- Leafy Greens like spinach and kale: Vitamin A, C, Folate
- Cheese:
Vitamin A, B12, Folate, Zinc
- Berries: Vitamin C, Antioxidants / phytonutrients
- Eggs: B6, B12, Vitamin D, Selenium
- Fish: B6, B12, Copper, Vitamin D, Iron, Selenium
- Fortified breakfast cereals: B6, B12, Iron, Vitamin D, Zinc
- Oranges: Vitamin C
- Nuts & Seeds: Copper, Folate, Selenium, Zinc
- Meat: Copper, Iron, Zinc
- Yogurt: Beneficial Bacteria, Vitamin B12
We hope these foods help keep you and your family fighting fit.