nutrients. antioxidants. fiber.
Power Greens is the ultimate daily "go-to" health drink that detoxes, energizes, & enhances all from just one convenient scoop! Our unique formula is packed with phytonutrients, vitamins, minerals, herbs, enzymes & fiber - so that your body is operating at its' best, always!
$1.57 Per Scoop vs $7.25 Green Juice.


Over 30 Organic Greens & Red Super Fruits.


Added Turmeric, Digestive Enzymes, & Fiber.


Nothing Artificial. 100% Vegan & Gluten-Free.

Serving Size: 1 Scoop
Servings Per Container: 35
Calories: 15

Total Fat: 0g
Total Carbohydrate: 6g
Dietary Fiber: 4g
Total Sugars:<1g
Protein:<1g
Vitamin C: 102mg
Niacin: 13mg
Vitamin B6: 1.6mg
Vitamin B12: 2.6 mcg
Sodium: 30mg
Potassium: 90mg
Organic Greens: 2500mg
(Organic Wheat Grass, Organic Alfalfa Grass, Organic Barley Grass, Organic Lemon, Organic Gotu Kola, Organic Kale, Organic Astragalus, Organic Bitter Melon, Organic Oat Grass, Organic, Chlorella, Organic Spirulina Powder)
Red Antioxidant Super Reds: 425mg
(Organic Beet Root, Bilberry Fruit, Maqui Berry, Pomegranate Fruit, Acai Berry, Acerola, Amla, Jabuticaba, Cranberry, Goji, Mangosteen, Strawberry, Organic Shisandra)
Immune Support: 250mg
(Ascorbic Acid, Organic Turmeric Powder, Reishi Mushroom, Cordyceps)
Digestive Enzymes: 170mg
(Cellulase, Papain, Protease, Lipase)
Other Ingredients: Inulin (Chicory Root), Natural Berry Flavor, Stevia
Mix 1 scoop with 8-12 ounces of water, juice, or your beverage of choice.
For best results, we recommend taking 1 scoop of Power Greens in the morning with your AIM protein shake.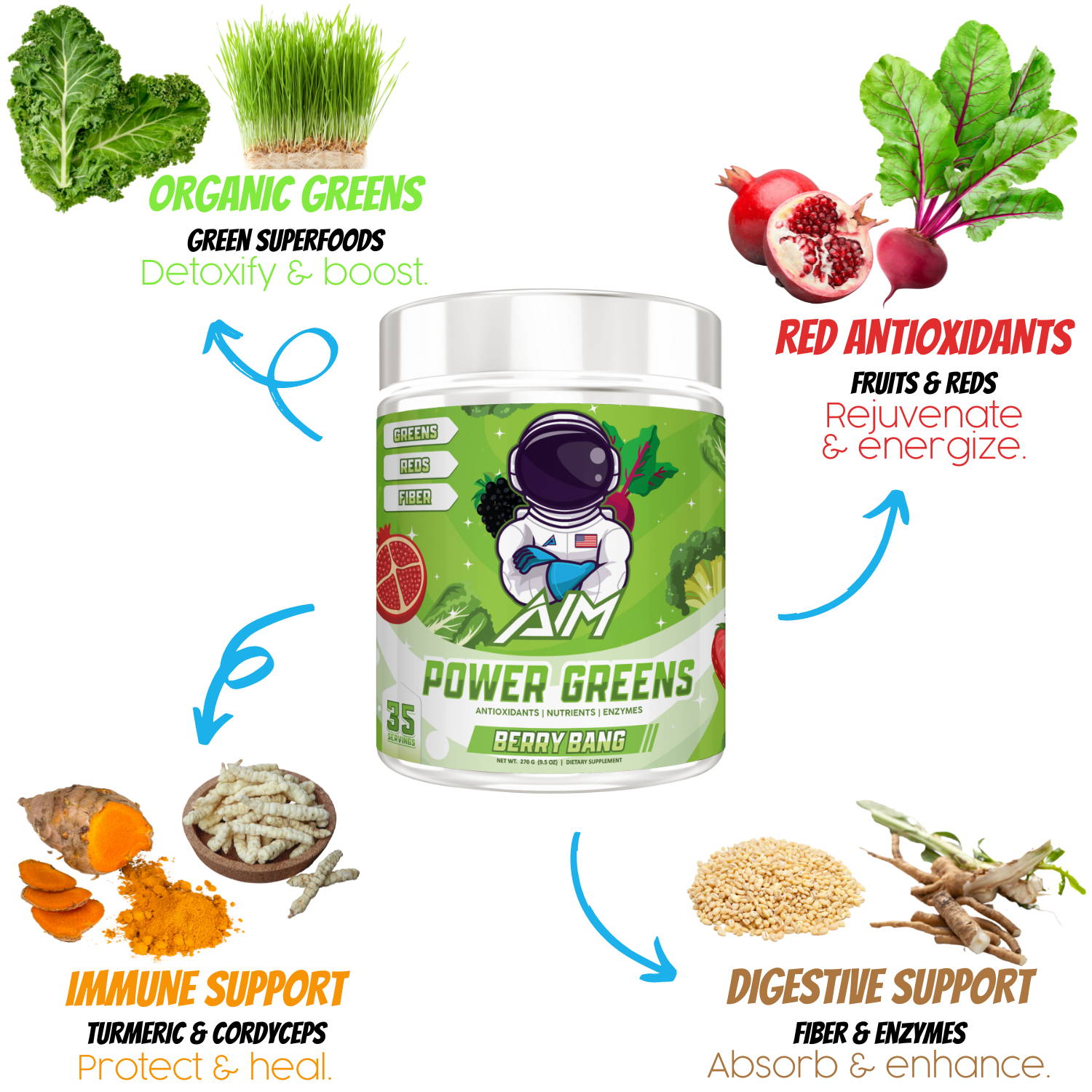 One daily scoop of Power Greens provides your body with all of the much-needed phytonutrients, vitamins, minerals, herbs, enzymes, & fiber it needs - all while tasting incredibly smooth & delicious!

Gluten, Dairy, & Soy-Free