lean muscle. fat loss. recovery.
Natural Milky Whey is also one of the cleanest, safest, & highest-quality protein products on the market! This product contains 24 grams of non-GMO, premium protein in every delicious scoop - allowing you to build lean muscle, burn fat, & improve recovery around the clock!
$2.14 Per Scoop vs $4.15 "Protein" Bar.


24 Grams. Non-GMO. Gluten-free. Clean.

No Artificial Ingredients. No Added Sugar.

Antioxidant Super Fruits for

Cold Processed for Premium Powder.

Ultra-filtered for Maximum Absorption.
Serving Size: 1 Scoop
Servings Per Container: 28
Calories: 130
Total Fat: 3g
Total Carbohydrate: 7g
Dietary Fiber: 1g
Total Sugars: 4g
Protein: 20g
Calcium: 32mg
Niacin: 13mg
Iron: 6mg
Vegan Protein Blend: 25g
(Pea Protein Isolate, Brown Rice Protein,Quinoa)
Antioxidant Blend: 150mg
(Acai Berry, Acerola, Amla, Jabuticaba, Cranberry, Goji, Mangosteen, Maqui Berry, Pomegranate, Strawberry, Organic Shisandra)
MCT Oil Powder: 400mg
(Natural MCT Oil, Maltodextrin, Modified Food Starch)
Other Ingredients: Creamer, Raw Sugar, Natural Flavors, Stevia
Mix 1 scoop with 6-8 ounces of water, milk, or your favorite milk substitute beverage.
For best results, we recommend taking 1 scoop of Vegan+ in the morning with your Power Greens.
To build lean muscle, decrease body fat, & improve performance - it's suggested to consume 0.8 grams of total protein per pound of bodyweight daily. For example: if you're a 175-pound person, you should intake 140 grams of protein per day.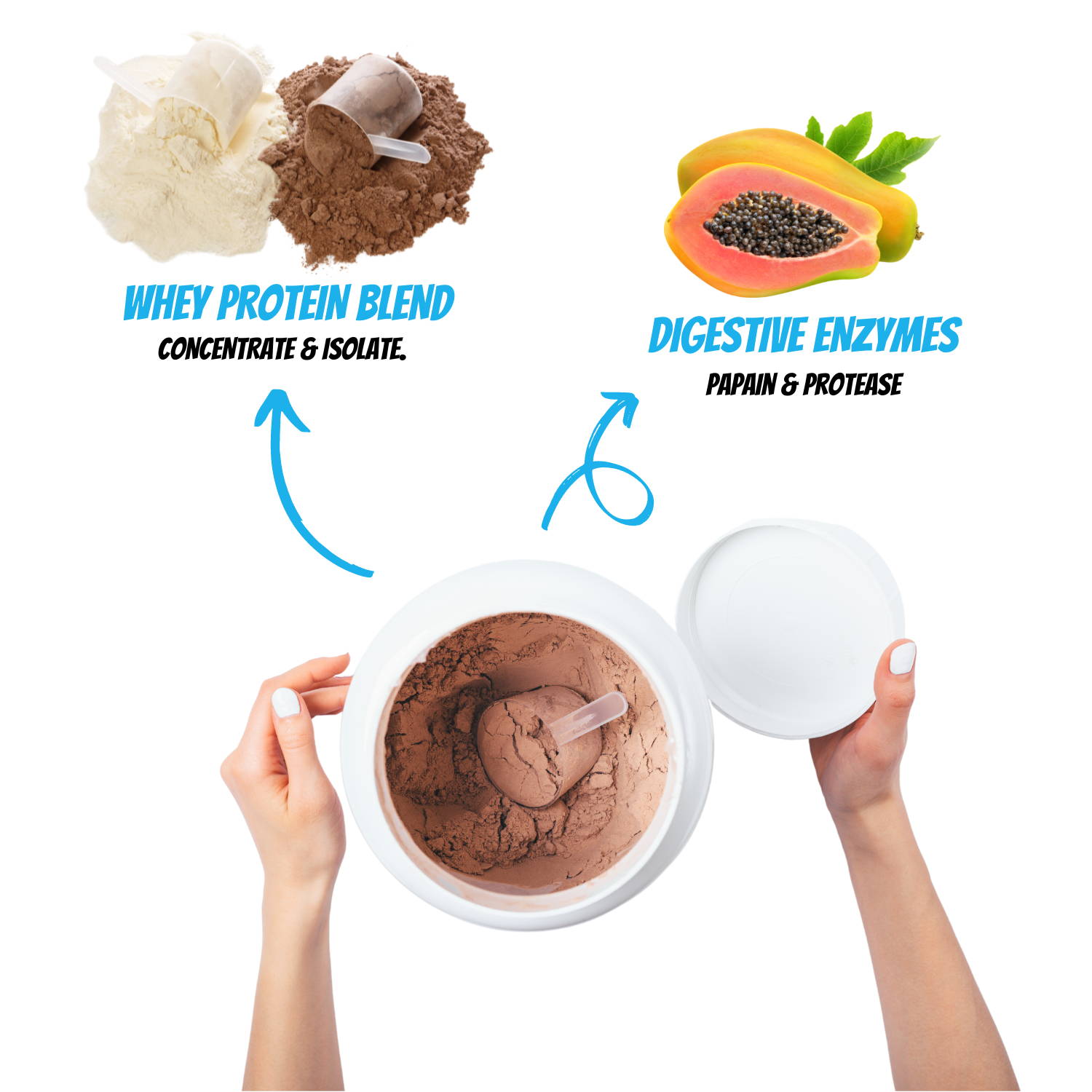 Our Vegan+ is unlike any other vegan protein on the market. Aside from containing 20 grams of premium protein extracted from THREE different food sources, we've also added 11 powerful antioxidants super fruits & MCT Oil powder to make this the ultimate health-based protein shake!
This unique synthesis provides a goodness-packed formulate that gives your body a complete serving of amino acids, vitamins, & minerals - while tasting INCREDIBLY GOOD! It also has zero artificial fillers or flavors.